Register here
to watch the livestream or the replay after!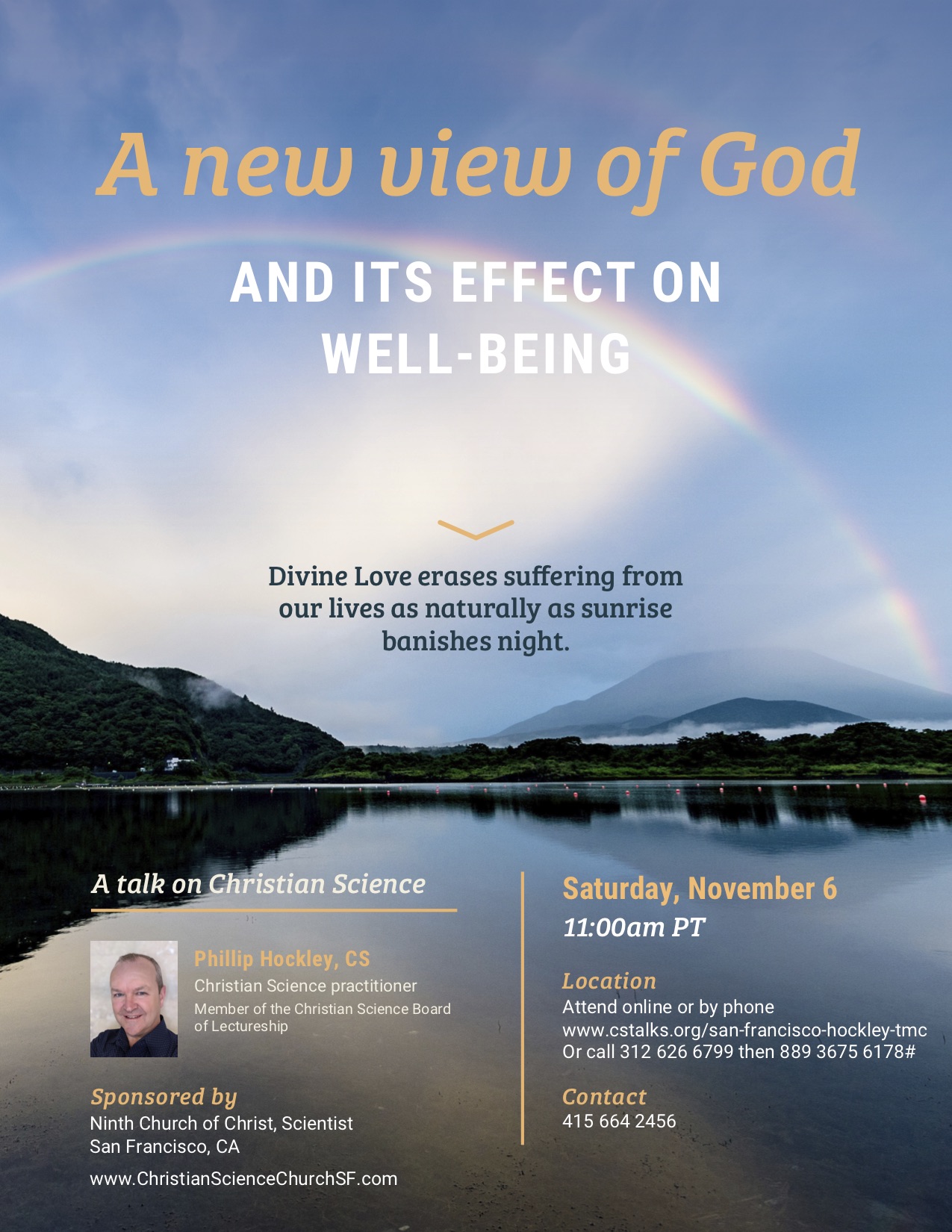 Click here to tune in to radio station KEST on Tuesday, November 2nd at 6:00 a.m., Thursday, November 4th at 6:30 a.m., and Saturday November 6th at 8:00 a.m. to hear an interview with the speaker, Phillip Hockley, CS.

WELCOME TO OUR HEALING CHURCH!
We're excited to announce we are now open again for in-person services!  You are warmly invited to join us as we gather and celebrate!
Sunday Service: 10:30 AM
Sunday School: 10:30 AM
Wednesday Testimony Meeting: 7:30 PM
Please join us for our healing services. Sunday Services are at 10:30 am and our Wednesday Testimony Meetings are held at 7:30 pm. Our church is located near the West Portal business district near Junipero Serra, an easy walk from a Muni stop or bus line.  Our Sunday School also meets at 10:30 am and welcomes your children in teaching the importance of the Bible in their daily lives.  Our Children's Room lovingly cares for your little ones that are too young to attend Sunday School. (Click here for a map to the church)
Our Christian Science Reading Room is located on West Portal Avenue.  It is one of over 1,500 Christian Science bookstores and resource centers worldwide for the exploration of spirituality, prayer, and healing. It is available to the public for anyone on his or her quest for spiritual understanding.  You'll find Bible study tools and Christian Science literature, including The Christian Science Monitor, as well as an uplifting atmosphere in which to discover peace, comfort, and spiritual solutions.  You may also purchase or borrow a copy of the Christian Science textbook, Science and Health with Key to the Scriptures by Mary Baker Eddy.
(Click here for a map to the Reading Room)