We're hiring a new Librarian for our active Reading Room in West Portal Business District.  Click here for details.
NOTE: Due to technical difficulties, the January 9, 2021 webinar titled "Finding God, Finding Health" was incomplete and has been rescheduled for Saturday, February 13, 2021 at 11:00 AM (Pacific). You can still register using the link below if you're not already registered.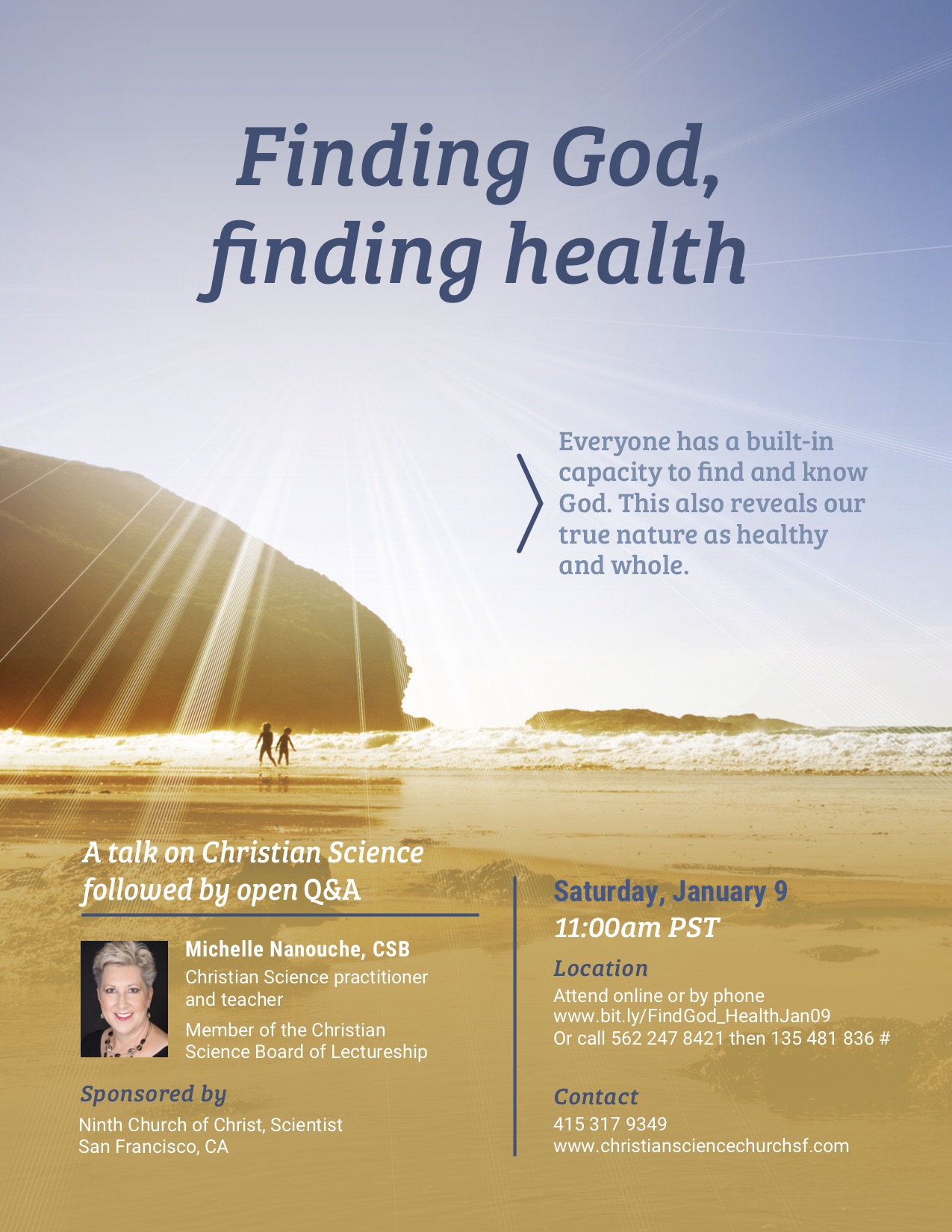 Everyone has a built-in capacity to find and know God. This also reveals our true nature as healthy and whole.
Click here to register to attend this webinar!
Dear Friends,
In compliance with City and State mandates related to the coronavirus/ COVID-19, we must temporarily suspend all church services.
We look forward to your return when the "all clear" signal is given!
If you are interested in listening to a Christian Science church service, please visit christianscience.com, then to "Publications and Activities," and then to "online services and events." Services are held on Sundays and Wednesdays.
Thank you for remaining steadfast in your support and prayers for our community and our church.
Sincerely,
Ninth Church of Christ, Scientist
WELCOME!
Please join us for our healing services. Sunday Services are at 10:30am and our Wednesday Testimony Meetings are held at 7:30pm. Our Church is located near the West Portal business district right off Junipero Serra, an easy walk from a Muni stop or bus line.  Our Sunday School welcomes your children in teaching the importance of the Bible in their daily lives.  Our Children's Room lovingly cares for your little ones that are too young to attend Sunday School. (Click here for a map to the church)
Our Christian Science Reading Room is located on West Portal Avenue.  It is one of over 1,500 Christian Science bookstores and resource centers worldwide for the exploration of spirituality, prayer, and healing. It is available to the public for anyone on his or her quest for spiritual understanding.  You'll find Bible study tools and Christian Science literature, including The Christian Science Monitor, as well as an uplifting atmosphere in which to discover peace, comfort, and spiritual solutions.  You may also purchase or borrow a copy of the Christian Science textbook, Science and Health with Key to the Scriptures by Mary Baker Eddy.
(Click here for a map to the Reading Room)